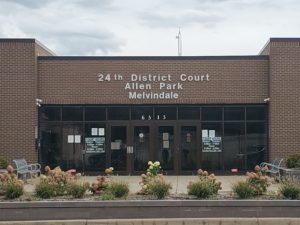 The 24th District Court is a limited jurisdiction court serving the cities of Allen Park and Melvindale. The Court has jurisdiction over criminal and ordinance misdemeanors, traffic violations, parking violations, and other civil infractions, general civil cases in which the amount in dispute is $25,000 or less, landlord-tenant disputes, and small claims matters. The Court also has initial jurisdiction on criminal felony cases for the purpose of determining probable cause.
Security screening is in process at the 24th District Court daily. Individuals and their belongings (purses, bags, briefcases, etc.) entering the court are subject to search.
In accordance with Michigan Supreme Court Administrative Order 2020-14, the 24th District Court is among a four (4) phase process to return to full capacity. 
The Court will remain operational during regular business hours to conduct court services. Court phones lines will remain open during regular business hours.  313.928.0535.